When the Class of 1960 Reunion Committee was discussing what contribution our class should make to Brockton High School to commemorate the 50th Anniversary of our graduation, a suggestion was made to offer a scholarship to the graduating class of 2010. The idea was embraced overwhelmingly by the committee, and a goal of $2,500 was set. It was soon evident that we had underestimated the generosity of our classmates as the goal was surpassed almost immediately and reached over $10,000. Our modest $2,500 goal ultimately became two scholarships of $5,500 each. The amount of the scholarship, one of the largest awarded at Brockton High, was chosen to make a significant impact in helping students further their education. While several smaller scholarships could have been awarded, we wanted it to go further than just helping to buy a few books.

It was no surprise, five years later, when the 55th Reunion planning group came together that they again wanted to provide a scholarship for the graduating class of Brockton High. This time the goal was set at $5,000 for a single scholarship, realizing that a 55th Class Reunion may not hold the same level of interest as the 50th did. Again, the generosity of our classmates was underestimated and the goal was quickly changed to two scholarships of $5,000 each.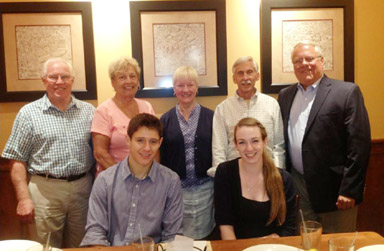 The scholarship selection committee consisting of (from left to right) Ron Holmgren Patricia Harris Giannakoulis, Jane Anderson Taylor, Len Miele and Tom Chew, reviewed over one hundred applications before making their final decisions. Applicants were evaluated based on academic achievement, financial need, activities outside of school and the completion of an essay on why they should be considered for the scholarship. Rather than simply make the awards to the two top-ranking students, the committee felt it was important to look deeper than just grades.


Scholarship winners for the Class of 2015 were Rebecca Golding, 77 Taft Ave, Brockton and Stephen Ulich, 39 Downey Rd, Brockton. Rebecca will be attending Wheaton College in Norton and studying to be a special needs teacher. Stephen will be attending UMass Amherst and studying computer and information science.

Here's an interesting note, according to a June 1960 article in the Brockton Enterprise, the Class of 1960 was awarded a total of $17,300 in scholarships. Through the generosity of our classmates, the Class of 1960 has as of this year, awarded a total of $21,000 in scholarships. We should all be proud that our class has set the standard for "giving back" to the school that prepared us so well fifty-five years ago. We hope other class reunion committees will follow our example.